Implant Supported Dentures
Implant Supported Dentures
This implant technique, is the optimal solution for those who have lost or are about to lose all of their upper and/or lower teeth. It's a procedure that comes closest to having a new set of permanent teeth.
Creating A Beautiful Smile
Using a minimal number of dental implants, Dr. Tsuchida can provide you with a set of strong and reliable permanent teeth.
An implant is like a titanium tooth root that is surgically implanted into the jawbone replacing the natural root-part of a missing tooth.
All-on-4® is a tested and proven approach that replaces your teeth following tooth loss. The technique involves the placement of four dental implants in precise locations of your jaw to support a set of new, permanent teeth. Your ability to chew and your appearance will be fully restored.
A denture securely fastened to dental implants will not slip or feel loose. You will no longer need adhesives or have any discomfort caused by denture movement. Your teeth will look natural, and robust stability can improve your ability to chew.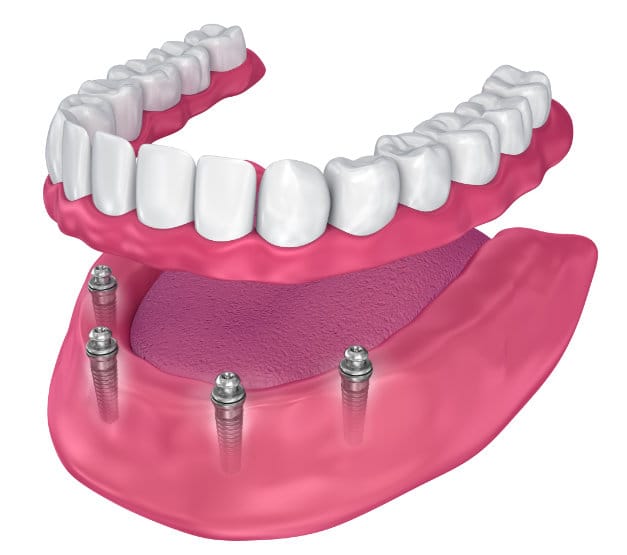 Day Of Treatment
On the day of your appointment please arrive 15-20 minutes prior to your scheduled time. This has proven to help patients settle in and release the pre-surgery nervousness. We will make you as comfortable as possible during your visit.
We recommend bringing along a friend or relative on the day of your treatment. Depending on the procedure itself, you may be receiving anesthesia and possibly other medication during the surgery. It is important that an adult accompany you to the office, stay during the procedure and drive you home after your recovery.
We will provide you with detailed information regarding medication, food, drink, and other preparations that you may need. Please follow their instructions on the day of your treatment. We will also provide you with complete post-surgery instructions including cleaning and maintenance instructions, and if necessary we'll provide you with prescriptions for any medications necessary to reduce the post-surgery discomfort and to help you toward a speedy recovery.
We'll arrange follow-up appointments to assure you maintain a beautiful, natural smile for years to come.